Starting in 2009, the federal government created a 30% tax credit that drastically reduces the cost to have a geothermal heating and cooling system installed in your new or existing home.
This means the highest efficient and longest lasting heating and cooling system is now affordable for any size home! If you would like to discuss the feasibility of a geothermal heat pump for your new or existing home, please contact one of our Geothermal Systems Designers.
Do you need more information?  A Geothermal professional is standing by to answer your questions:
(502) 244 – 9999
There may never be a better time to buy a WaterFurnace geothermal comfort system. Don't let this opportunity pass you by. Call your Allgeier Air contractor today.
Click below to take advantage of our
limited time interest rate financing
Only the best geothermal heating and cooling professionals from the WaterFurnace network of independent dealers are invited to become a GeoPro Master Dealer. Allgeier Air is one of only two master dealers in the Louisville area! We have proven time and again that we truly care about customers like you. You've chosen the finest geothermal heating and cooling system available; don't you deserve the finest to install and service it? Take comfort in the fact that GeoPro dealers have been thoroughly evaluated in the following areas:
Overall Performance
Experience and Dedication
Installation Quality
Technical Training
Business Practices
Marketing and Advertising Efforts

WaterFurnace Geothermal technology can save you 30% to 60% on your monthly energy bills.
WaterFurnace Geothermal Technology provides the safest, cleanest, most reliable heating and air conditioning system for your home.
Start Saving Money Now
As an approved WaterFurnace Dealer, Allgeier Air can help you take advantage of Geothermal heating and cooling technology for your home.  Call (502) 968-0122 to get started today!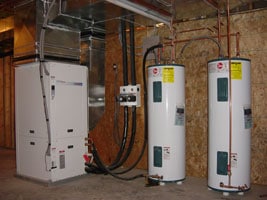 See Real Examples of our Customers' Utility Costs